Barrett Plumbing & Drain is a local, family-owned plumbing company that has been serving the greater Phoenix area since 2005.
We have had a vision from day one to stand out and be different from the competition. We strive to deliver the highest level of customer service and top quality craftsmanship to each and every one of our customers. We want our interactions with our clients to feel relaxed and personable. Our customers never need to feel pressured or uncomfortable when selecting options for their home. We refuse to use high-pressure sales tactics when making our recommendations. You can rest assured that every technician that comes to your home will be neat, friendly, highly skilled, and smell great!
We train our team regularly to ensure they can expertly diagnose plumbing problems in your home fast and efficiently. We stay up to date on the newest materials and tools to make sure all repairs are performed properly with ease. Whether you have a drippy faucet that needs a new stem, or your house is flooding out in the middle of the night, our technicians can identify the problem and offer solutions usually within minutes!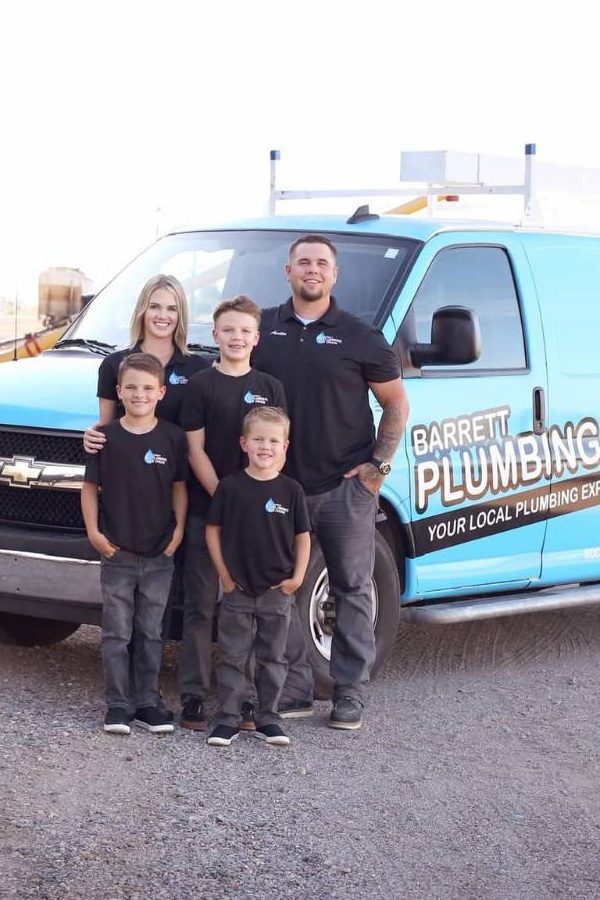 We train our team regularly to ensure they can expertly diagnose plumbing problems in your home fast and efficiently.
Keeping our customer's homes clean and tidy is very important to us. Wearing floor savers and gloves are a common practice. We want the jobsite to look better than it did before when we leave. Drop cloths are used to protect floors and gentle solvents are used to clean up work areas and leave them smelling fresh!
Drain is a very important word in our name. We understand how stressful it can be to have a clogged kitchen sink or a backed-up sewer main. Here at Barrett Plumbing & Drain, we have all the gear and gadgets to keep your sewer system running great. Sewer snakes, hydrojetters, and sewer cameras to name a few!
To be committed to making a positive impact in our community by employing the best technicians, and providing unrivaled service to our customers. We are great at what we do and want to ensure that every single person that we do business with has had a truly amazing experience.
To build life long relationships with our customers and grow a reputation around the valley that is known for its punctuality, ethics, and master craftsmanship. Customer service first!
We value every customer that we service and realize that building relationships with our community, starts with assembling an expert team of individuals that have a passion for what they do! We will always serve our community, with compassion, integrity, and excellence!